Hair straightener splint double use Hair curler rolling perm Suitable for wet and dry hair Straightening hair Plywood
111,137.00 TZS
Specification:Type : hair curlerColor:GoldVoltage: 210v-240vPower Source:ElectricApplicable hair:Dry/WetMax. temperature:220℃Power Cord Tail Assembly Mode:360° RotatableDiameter of thermal conductor:16MM-20MMHeating time /  optimal styling time : 1-2 minutesFeature:1. The highest temperature up to 220 degrees.2.Ceramic...
Specification:

Type : hair curler

Color:Gold
Voltage: 210v-240v

Power Source:Electric
Applicable hair:Dry/Wet

Max. temperature:220℃
Power Cord Tail Assembly Mode:360° Rotatable

Diameter of thermal conductor:16MM-20MM
Heating time /  optimal styling time : 1-2 minutes
Feature:

1. The highest temperature up to 220 degrees.

2.Ceramic tourmaline technology preserves moisture and protects cuticle.

3.Professional tourmaline ceramics heat technology (PTC), heat up and heat down fastly.

4.It Is Safe And High Quality, Greater Straighten Hair, Biological Activity, Adjust Hair's Oil Balance, Improve Sleep Quality
5.Tourmaline  emits anion that counteract the positive ions present in dry or damaged  hair helping seal moisture into your hair and decrease frizz.

Attention:
1. Don't use this products near a bathtub or any other wet area;
2. Please verify that there are no defective with the item prior to use.
3. Keep out reach of young children.
4. Do not store your device until it has complete cool down.
Package Details:
1 x Straight hair curlers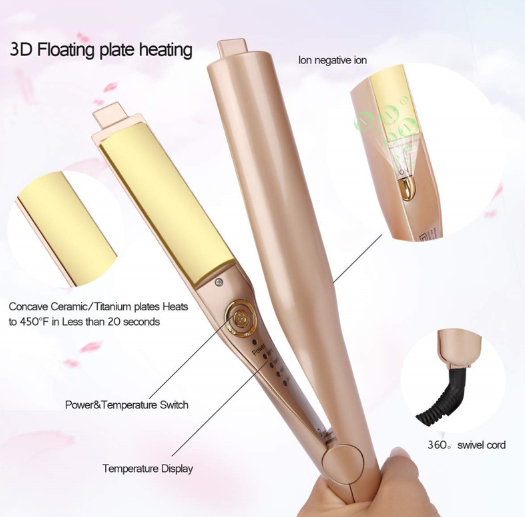 Dust or wipe clean with a cloth dampened with water once a week. Be sure not to leave water spots on the surface. These water spots will dry and could possibly leave permanent marks. Clean stains/spots using the following steps: Dampen a soft cloth with a mixture of hot water and liquid dishwashing detergent. Wring the cloth as much as possible to remove excess liquid. Rub the surface lightly in a circular motion. Dry the surface immediately with a clean, soft towel.